Helping NFT collections rebalance their projects?
At Earth9 we are all really passionate about emerging technologies, especially blockchain, Web3 and non-fungible tokens (you'll notice all of our certificates are NFT's!) – and we're really proud to be able to work with some fantastic Web3 projects to help them carbon offset the impact of their launches (btw – all our NFTs are NetZero).
Introducing EY3KØN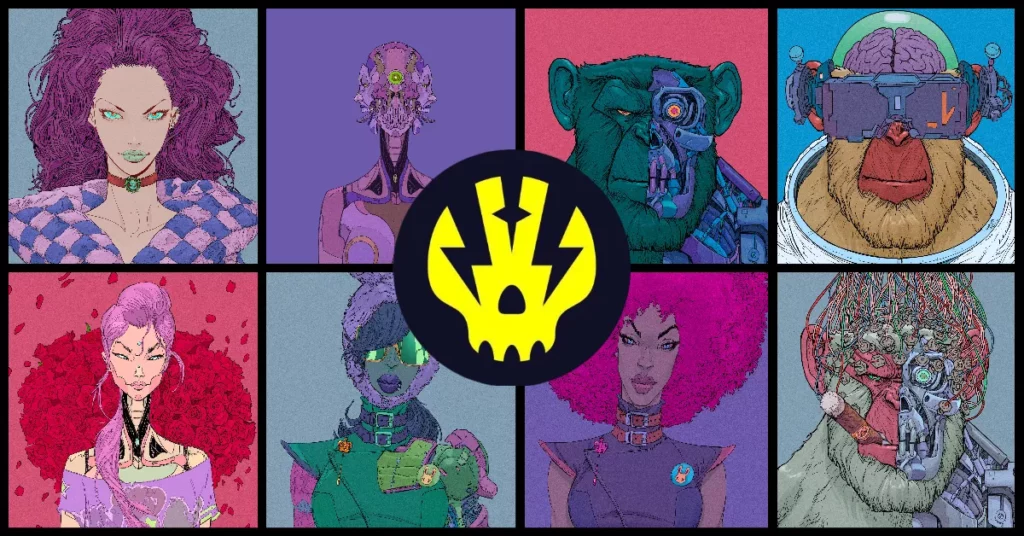 One of those is EY3KØN. A strange, beautiful, holy, profane, collection of 10,000 NFTs.
Their goal: to create an immersive storytelling platform for the metaverse generation. Get exclusive access and perks that no currency can buy. Don't just watch the story, be part of it. Become an EY3KØN.
Given the popularity we understand that minting on the Ethereum blockchain is the preferred choice for the majority of NFT projects, and at the time of mint out Ethereum was a proof of work chain (more on this below). We worked with the team at Rebel Studios to mitigate the carbon footprint of their collection.
The initial minting of 10,000 NFTs came with a carbon footprint of around 500 tonnes of C02e, equivalent to 555 economy flights from London to New York.
To give allowance for trading, the team mitigated 1,000 tonnes of CO2 emissions using nature-based carbon credits from the Kariba REDD+ project in Zimbabwe. The Kariba Project protects almost 785,000 hectares of forests and wildlife on the southern shores of Lake Kariba. One of the largest registered REDD+ projects by the area, it connects four national parks and eight safari reserves, forming a giant biodiversity corridor that protects the forest and numerous endangered species – including the African elephant, lion, and hippopotamus. Kariba is a community-based project and supports a range of activities beyond environmental protection which include – improved healthcare, school subsidies, and investment in new roads and boreholes. Project activities in conservation agriculture, beekeeping training, fire management and ecotourism create jobs that benefit the entire region.
In addition, they planted 10,000 trees in partnership with the Eden Reforestation Project ranging from the mountains of Nepal to the mangroves of Madagascar, helping to create jobs and support communities in restoring their local environment and economy long-term.
And this was just the start….
Rebel Studios have also agreed to make their entire team Carbon Neutral by forward purchasing nature-based carbon credits in Kariba REDD+ for the next 2 years! Using an average of 9 tonnes per person per year this comes out at 180 tonnes for their 10 strong team.
Another exciting NFT collection comes from the team at Vizzio Art.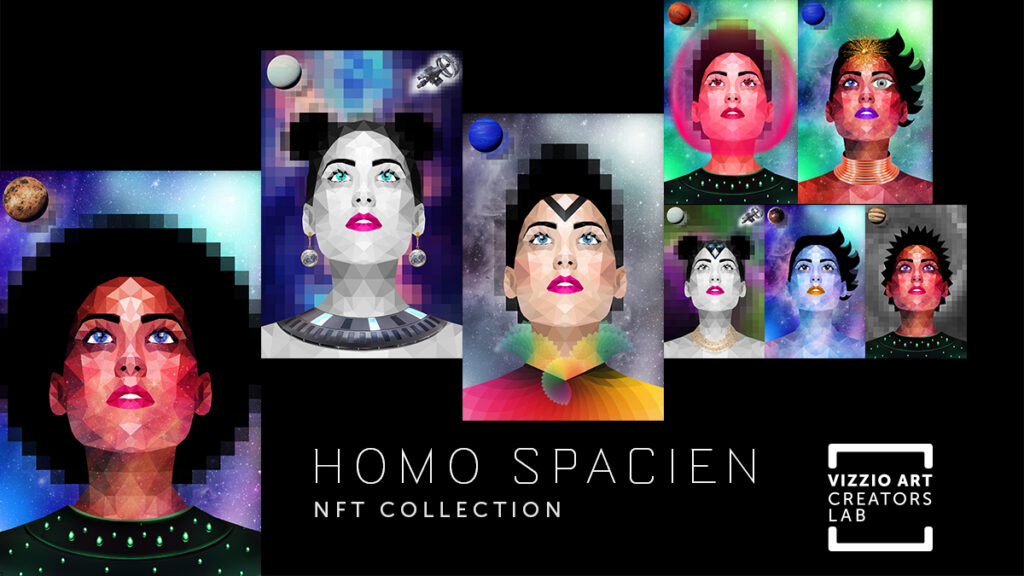 Homo Spacien parallels the scientific and physical influences that will impact how humans look, dress, and interact with each other as we explore galactic environments, opening up conversations and reflection on space exploration.
Homo Spacien is a project conceptualized by Vizzio Art Creators Lab (VACL), a large group of artists, developers, and NFT-enthusiasts. Owning a unique Homo Spacien is about being part of a strong community project that has a great road map during the year.
Lucky holders of their first collection 'Cani Spaciens' will be entered into a raffle to get the chance to have their NFTs sent into space. Incentivizing people to join your community through exciting rewards and activites is a sure-fire way to build an engaged community, but it doesn't stop there. We are supporting the team by planting a tree for every NFT minted.
You can read more about their first collection HERE.
Update: A word on the shift from Ethereum Proof of work (POW) to Proof of stake (POS).
Developers are looking for ways to mitigate the excessive energy consumption involved in mining cryptocurrency with Ethereum's recent overhaul, called the Ethereum Merge. With Ethereum 2.0, energy consumption will be reduced, transactions will be faster, and gas fees will be lower.
How much energy should Ethereum 2.0 save?
The shift from proof-of-work (PoW) to proof-of-stake (PoS) has rendered Ethereum mining obsolete. Therefore, the creation of Ether will not require energy-intensive computers. Consequently, the Ethereum network will consume 99.95% less energy.
Is Ethereum 2.0 going to reduce the gas fee?
The switch from proof-of-work to proof-of-stake blockchain governance should enhance Ethereum 2.0's security and scalability. As a result, it should reduce the gas fee required with every transaction on Ethereum. However, determining how much the gas fee will be reduced is not easy because it varies, and the volume of Ethereum's transactions can cause the fee to increase or decrease.
Ethereum projects that sharding will increase the speed of the network from 25–30 transactions per second (TPS) to several thousand transactions per second, maximizing at 100,000 TPS.
It could take time for Ethereum to achieve its dream of lowering gas fees, speeding up, and reducing emissions. Providing investors with a better experience with this revision could put the Ethereum blockchain at the top of cryptocurrencies if it succeeds.
Here's the bottom line
As Ethereum 2.0 evolves into a better-performing, more accessible network, it has begun to take shape. By improving speed and reducing transaction costs, the updates are expected to reduce emissions and make the network more energy-efficient. Ethereum, however, has much ground to cover before it can beat its competitors. As for helping NFT projects go Net Zero – well it just got a lot cheaper. So contact us if you're interested.