Plastic is a global problem with local impact
Help us recover and recycle ocean plastic in all islands and coastal areas of Thailand
Studies have shown that plastic is a global problem, but it affects each of us locally. Communities in developing nations are particularly affected, with over 30 double-decker busloads of plastic waste being burned or dumped every 30 seconds. According to the Ocean Conservancy Institute, plastic waste seriously harms ocean wildlife, killing more than one million seabirds and 100,000 marine mammals and turtles each year through ingestion and entanglement.
Our Ocean Plastic Recovery approach
Reducing, reusing and replacing plastic is the first step to making your company more sustainable.
We understand that companies are now looking for ways to go beyond the value chain in order to make a bigger impact.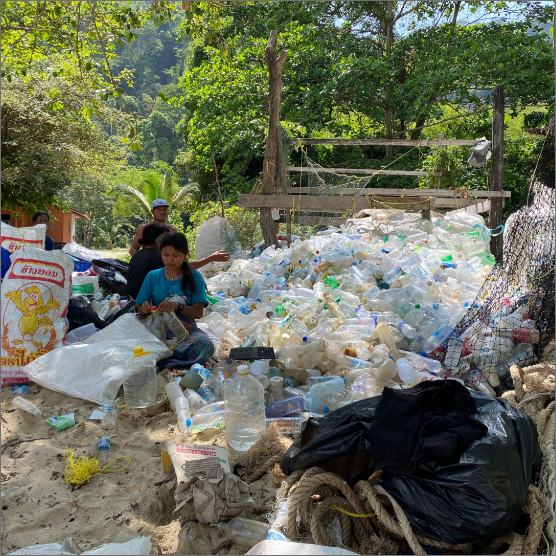 Recover
Informal collectors and local communities are incentivised to recover ocean waste.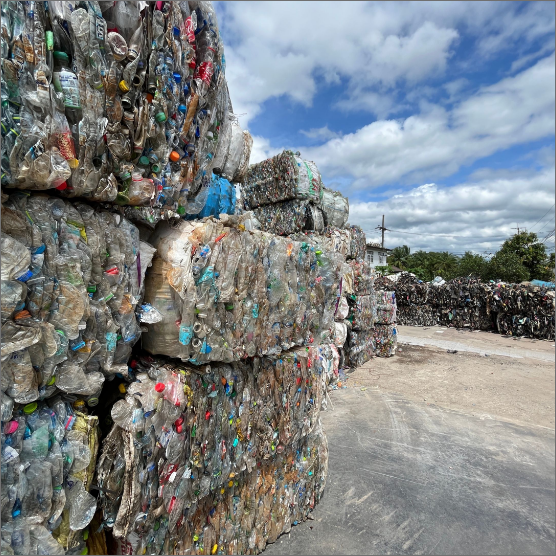 Recycle
Local recycling initiatives are identified and financially supported to process all types of plastic waste, including non-recyclable plastics.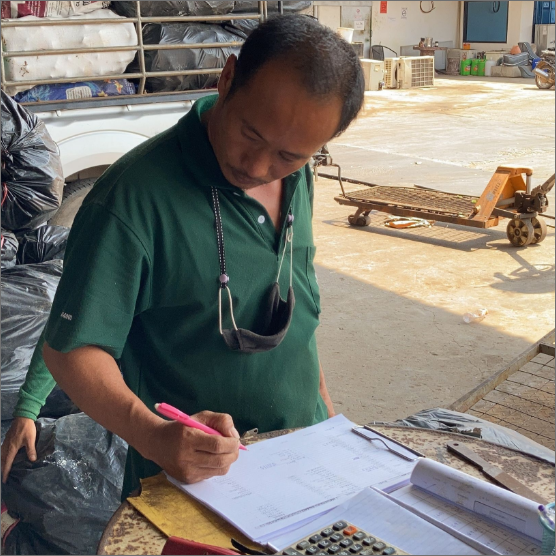 Reinforce
The community and stakeholders are engaged beyond the supply chain and are consulted to trace and monitor plastic recycling activities.
Plastic is removed with the world's first Verra-certified ocean plastic recovery and recycling project, Second Life.
This means that every plastic credit is a verified tonne of removed or recycled plastic that would not have been otherwise.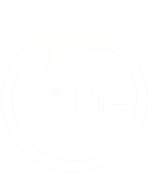 How you can help
Up to 12.7 million tonnes of plastic enters our oceans every year, with a total estimated 150 million tons of plastic currently in our oceans.
Plastic credits help finance recycling and recovery operations that have a high environmental and social impact around the world. They are an important part of guidelines for plastic sustainability.
1 plastic credit =
1 tonne of plastic recovered & recycled
That's the equivalent of 50,000 plastic bottles
We offer our customers an affordable solution to contribute towards cleaning up our oceans.
Choose between a simple, one off payment or monthly subscription.
Monthly Subscription
£30
40kg of ocean plastic
Equivalent to 2,000 plastic bottles
Minimum One Off Payment
£150
200kg of ocean plastic
Equivalent to 10,000 plastic bottles
Supporting people and the environment
We support circular plastic supply chains in areas where waste infrastructure is not well developed and where plastic pollution heavily impacts the local biodiversity. We can help improve the environment and also help people, where the local community is vulnerable and marginalised.
Recovering millions of plastic bottles
Our projects in Krabi, Chiang Mai and Ranong have recovered and recycled over 2,389,000 kgs, equivalent to over 119 million plastic bottles of ocean-bound plastic since January 2020.
Supported by the best in plastic removal and reduction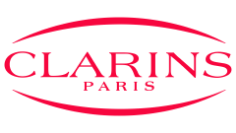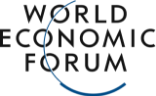 FAQs
How does plastic recycling work?

The plastic that people collect from their homes, businesses, and local recycling centres is sent to Material Recovery Facilities (MRF). MRFs separate plastic and non-plastic. Some MRFs also send the plastic to a Plastic Recovery Facility (PRF). PRFs sort the plastic by type. The different types of plastic are then separated using sorting equipment such as an optical sorter or manual sorting. The plastic then goes to a re-processor where it gets cleaned and shredded. The plastic is then melted and turned into new recycled plastic pellets. These pellets are then sold to producers so they can make new products.
How do you help stop plastic waste at source?

The plastic then goes to a re-processor where it gets cleaned and shredded. The plastic is then melted and turned into new recycled plastic pellets. These pellets are then sold to producers so they can make new products.
How much of my money goes to the project?

At least 80% of your money goes back into nature-based projects. It's so important to us that these projects receive as much funding as possible, that we even invest at least 51% of our profits back into nature-based projects ourselves.
What plastics can be recycled?

The most commonly recycled plastics are:

Polyethylene Terephthalate (PET) – water bottles and plastic trays
High Density Polyethylene (HDPE) – milk cartons and shampoo bottles
Polypropylene (PP) – margarine tubs and ready-meal trays
Polyvinyl Chloride (PVC) – plumbing and piping
Low Density Polyethylene (LDPE) – food and shopping bags
Polystyrene (PS) – plastic cutlery
What happens to plastic that can't be recycled?

Ocean plastics collected that can't be recycled are transformed into RDF (Refused Derived Fuel), that is then sold for power generation to a cement and electric generation company in Thailand, close to the main collection centre. 27% of total plastics collected in 2021 (483 tons), were transformed into RDF.

For land plastics, non-recyclables are transformed into pavement blocks, public benches and tiles, which are sold to companies and the public.
How do we measure our plastic footprint?

Your plastic footprint can depend on many factors. To simplify things, we recommend looking at the number of people in your business and multiplying this by the average number of plastic bottles used in the UK, per person, every year. Currently, the UK uses 13 billion plastic water bottles each year, with the average person in the UK now using almost 200 plastic water bottles – that's nearly 4 a week.
More questions?
We would love to hear from you.
Join us